Life Events - Funerals
A Church of England funeral is available to everyone, giving support before, during and after the service. We hope this page will be a helpful guide to answer some of your questions.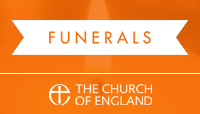 The Church of England 'Funerals' website has a lot of information explaining the help available, a service walkthrough, and guidance on how to arrange a funeral. It also answers questions you may have if attending a funeral, as well as a section on 'my funeral plans'.
Burials have been taking place in the Forest Edge benefice for hundreds of years. The churchyards at All Saints Longhope, St John the Baptist Huntley, St Andrews Churcham and St Michael and All Angels Bulley are all open and have space available for burials.
If you would like to arrange for the burial of a loved one in the churchyard, please speak in the first instance to the Reverend Lara Bloom on 01452 831527 or email who will be able to advise you further.
Burial of Ashes
Sometimes families want to arrange for the ashes of a loved one to be buried in a Churchyard, either in a family grave or in a Garden of Remembrance. We can provide a short, grave-side service at which the remains of a loved one are laid to rest.
For more information, or to discuss any aspect of arranging a funeral for a loved one, please contact the Reverend Lara Bloom on 01452 831527 or email .
Churchyard Regulations can be found on the Diocese of Gloucester Churchyards page »